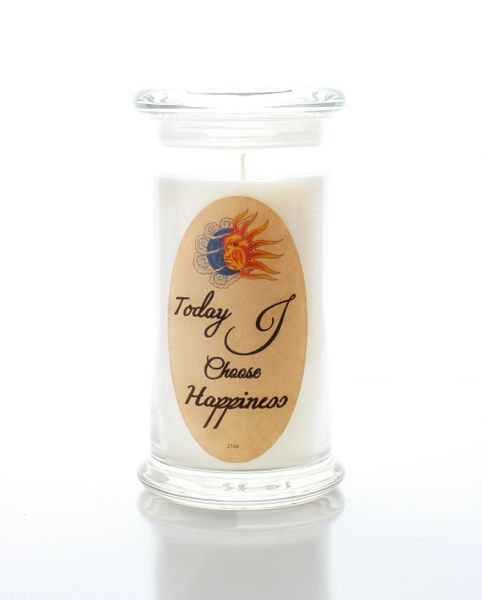 Today I choose Happiness
GIANT 21 oz Status Jar Candles w/lid
Approximately 190 hour burn time.
Doubles as a body/massage moisturizer when melted.
Pick from a variety of essential oil scents or purchase in unscented as well.
Our unbleached Eco wicks are primed with vegetable wax, not toxic paraffin wax.
INGREDIENTS: non-gmo soy wax, essential oil, unbleached cotton wick
...Good for you
• 100% natural NON GMO soy wax
• Metal and lead free wicks unbleached cotton wick
• Free of color additives
• 100% pure essential oil
• Virtually no black soot or smoke
• Aromatherapy grade
• Burns cooler than paraffin wax
• Clean up with soap and water
• Soy wax meets FDA standard
• Free of Genetically Modified Materials
• Spa quality massage oil
...Good for Earth
• Zero dependence on foreign oil
• Biodegradable soy wax
• Not tested on animals
• Free of palm wax
• Recyclable packaging
• Reusable containers
• Supports U.S. farmers
• Zero waste for landfills
• Sustainable production practices
• NO petroleum products used
• Free of pesticides and herbicides
• Free of synthetics
Earth Friendly
Honest Earth Candles is dedicated to preserving the integrity of the world we live in. We believe in being good stewards of the Earth. All of our products and packaging are reusable, recyclable, and/or biodegradable.
Natural Ingredients:
Our candles are made with the finest natural ingredients. We do not use synthetics. Our 100% natural NON GMO soy wax is pure. Most candle waxes come from crude oil, but Honest Earth Candles' soy wax comes from Non GMO soybeans grown on American farms. It is renewable, sustainable, environmentally friendly, and biodegradable.
PRODUCT DISCLAIMER: All products on honestearthcandles.com are not intended to diagnose, cure, treat, or prevent any disease. Products and statements have not been approved by the U.S. Food and Drug Administration and therefore are not intended to diagnose, treat, cure, or prevent any medical condition. The information contained on this site is general in nature and is not meant to substitute for the advice provided by your own physician or other healthcare professional.
The usefulness of products for certain conditions and recommended dosage are recommendations of Honest Earth Candles Inc. and does not warrant and shall not be liable for complications that may arise from use of any product.
-Burn your candle until a melted pool of liquid wax completely covers the top of the candle. (At least one hour for every inch in diameter of the container). With our large Honest Earth Candles we recommend allowing your candle to initially burn for approximately 3.5 hours to acquire an even burn pool from the beginning. This allows your candle to burn evenly and not create a tunnel down the center resulting in a significant amount of wasted wax.
-When your candles arrive, you may notice oil "beads" on the surface of the candle. This is known as "weeping"; when the wax squeezes some of the oil out and is very common, particularly in warmer and colder climates or if the candles pass through different climates to reach you. We always recommend that you wipe off excess oil before burning your candle for the first time, as the oil may ignite when you light your candle. This is due to "flashpoint", meaning the temperature at which something will ignite. Essential oils by themselves have a lower flashpoint than soy wax, so they will light on fire before soy wax will. Soy wax has a very high flashpoint, which is why it melts but does not burn when a flame hits it.
-NEVER burn any candle longer than 4 hours at a time.
-Do NOT burn votive candles for more than an hour at a time.
-If your wick flame is too high extinguish your candle and trim the wick to ¼".
-Always trim your wick to ¼" each time before you light your candle.
-After being lit for the first time, the wick may spark or soot if you do not trim it before burning.
-If you see a noticeable amount of black smoke being emitted from the wick, blow the candle out, trim the wick, and re-light. This combustion reaction can occur if your soy candle wick is too long.
-Keep your candle burning away from any drafts or vents as they cause the flame to "dance" and can result in an uneven burn pool and smoking of the wick.
-Keep wax pool free of all debris (matches, wick trimmings)
-Never leave a candle unattended and always extinguish before going to bed or leaving the house.
-You may choose to dip the wick into the melted wax to extinguish since blowing out candles causes the wick to smoke and the smoke will adhere to its glass container.
-When using our soy wax as a hand moisturizer and/or massage oil blow out your candle before you touch the melted wax.
-Our soy wax is ONLY scented w/pure essential oils, NOT synthetic fragrances or essences. Even though our candles are truly natural ALWAYS perform a skin allergy test in-case of any sensitivities to certain oils.
-Our soy wax has a low melting point. If you receive your candle (especially in the summer months) and some melting has occurred, please note this will not affect the performance of your candle.
-Honest Earth Candles is not responsible for damage or improper burning related to misuse or alterations of candles.
WARNING: If you are pregnant, epileptic, have liver damage, have cancer, or have any other medical problem, please use essential oils in any form (especially undiluted) with caution or under the proper guidance of a qualified aromatherapy practitioner. Use extreme caution when using essential oils with children. It is safest to consult a qualified aromatherapy practitioner before use. We highly recommend a skin patch be conducted prior to using an aromatherapy oil that you've never used before. Certain essential oils can prove harmful to children, pets, those with compromised immune systems, and those with certain sensitivities if applied, ingested, and or inhaled in high doses. OUR ESSENTIAL OILS ARE DILUTED BY THE CANDLE'S SOY WAX (NOT BEFORE), HOWEVER WE WANT OUR CUSTOMERS TO HAVE ALL INFORMATION TO MAKE A HONEST AND INFORMED DECISION BEFORE PURCHASE. FEEL FREE TO CONTACT US WITH ANY QUESTIONS.
Reviews